The Figurative Paintings of michel guerin
If you're new here, you may want to subscribe to my RSS feed. Thanks for visiting!
I came across  michel guerin's painting through my Filckr site. His work captured my imagination the minute I saw it. It made me think of the 20′s, of France in the 20′, of people and romance in the 20′s. At least how I have always imagined the 20′s to be.
At the same time his paintings are contemporary in their subject matter, the human condition. Both in groups and in the solitary figure.
michel told me that he is 69 years old and has been a professional painter since 1975. He has a MA and a PhD in literature  from University in Aix en Provence. At the same time he was attending Escole Nationale des Arts Deco.  He taught for a few years and then decided he wanted to see the world. He worked for TWA as a purser and was based in Rome where he began to paint.
He said, " I began as an abstract painter, but I got fed up trying to paint ideas. I decided I wanted to paint things and human beings."
michel has had exhibitions around the world and now lives in Italy. He is a resident of the Riviera where "I find the kind of landscapes I like."
It was so very hard for me to choose which paintings to share with you. michel is nothing if not prolific. His flickr site is full of his interesting work.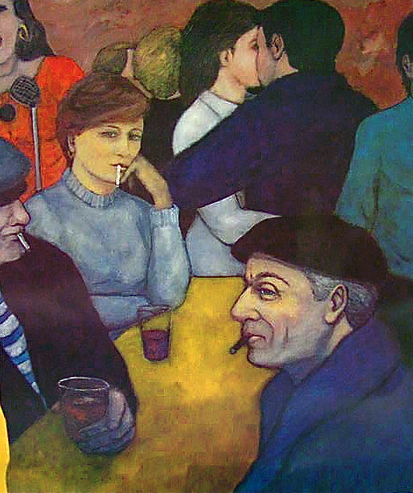 He portrays people being people, living, drinking, loving, singing, dancing, he show us it all. He truly reveals that he loves people and show us to ourselves.
This is a photo of  michel in his work space. On his flickr site under this photo he wrote..
My favourite colour is RED
I believe in friendship
I only have female friends
I've been married for 44years(same wife)
I hate sports
I love dogs and cats
I'm utterly pessimistic
I hate cities and crowds,so I live in a small village of the Italian Riviera (27 inhabitants)
Went to an art school, was a teacher, was a purser on TWA, became a professional painter in 75 with my  first show in Paris, lived 7 years in London, 4 years in Tangiers and finally Italy
I'm painting because I want to stay alive
He left me with this last thought, "Oh yes, I forgot, I'm French, love the sea and women, (married 44 years with the same one!!)".
Unfortunately, there is no website, but you can see over 100 fabulous paintings of michel's on his flickr site.
Leave him a comment there, I know he's loved to hear from you. Tell him I sent you!
Popularity: 65% [?]
Related Posts: