Posted in
art dolls
,
Characters
,
polymer clay
on January 13th, 2010 by Alice –
7 Comments
If you're new here, you may want to subscribe to my RSS feed. Thanks for visiting!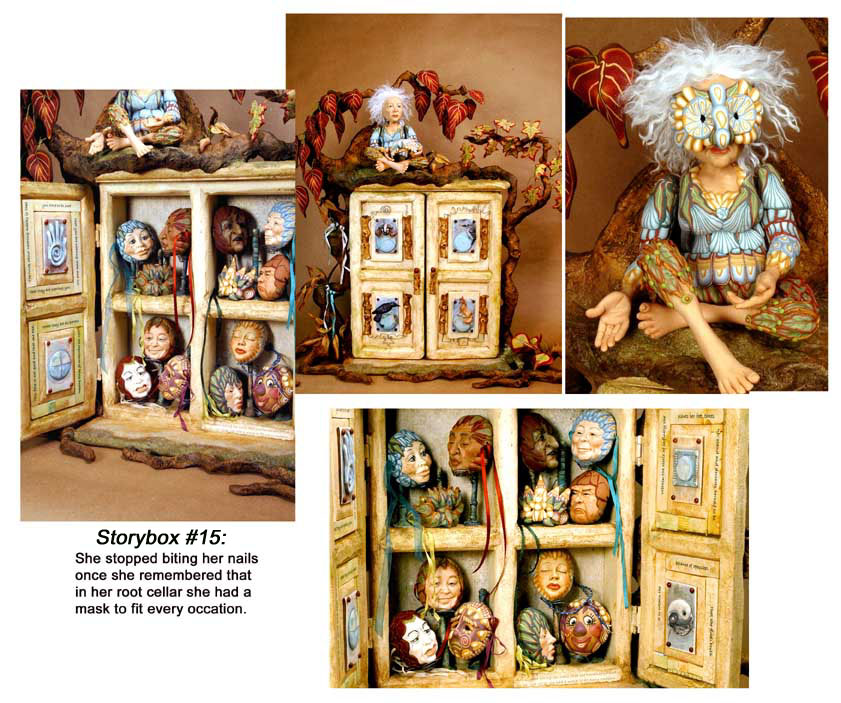 When I first started getting interested in polymer clay, it was because I wanted very badly to sculpt! Faces! There were a few artists that had been working in polymer for years and had published a few books. Maureen Carlson was one of them. I bought her book, Family and Friends in Polymer Clay, I loved this book.   Maureen is, and I believe always will be, a storyteller. Her newest work above is a tribute to her fabulous imagination and ability to engage you, the viewer, with the tapestry of her stories. Couple this with the color and texture of the clay and you have delightful, entertaining story to read in 3D. This Storybox might be my favorite work of hers to date.
Maureen's designs are about imagination and whimsy and the joy of recognizing a glint of understanding in the eyes of a wee clay creature. Wee Folk Creations is a company that specializes in designs, artwork and stories created by Maureen.
In 1999, Maureen and her husband Dan opened Maureen Carlson's Center for Creative Arts, in Jordan, Minnesota, just 35 miles southwest of Minneapolis.  In this small town setting, perched on the edge of a small meandering creek, students and retreat participants have opportunities to learn, to share and to explore their creative interests.
On her website, Maureen has many galleries full of work from the beginning to today. The theme of her newest work is faces, which is why I am continually drawn to Maureen and her characters. I just love this "Circle" girl. She tells the story of herself, on herself as we all do if one looks close enough.
In keeping with a story telling, on her website she shares this about her sculpture, Be Still.
"My sculptures usually come from words and phrases that pair themselves with images. Such is the case with this piece.  I heard once that there is great value in being still, that action is not the only choice.  In fact, there might be great harm in doing something just to do it, or in being busy just to prove one's worth. I paired that thought with these words that a student posted on the quotation wall at my retreat center: You can't keep the birds from flying overhead but you don't have to let them nest in your hair."  You can read the rest of Maureen's thoughts about Be Still here.
I asked Maureen if she had anything that she would like my readers to know. She answered, "One of the things that I know about my work is that I still love my little whimsical wee folk at the same time that I'm thoroughly enjoying the process of making the newer pieces that tell stories and ask questions.  Haven't gotten bored yet!"
"It's been 30 years now that I've been making and marketing my characters and I'm still learning new things. So many things yet that I want to explore."
Maureen continues to produce books and many other products to educate those of us who want to learn more about polymer clay. You can access all of Maureen's products and information on her website, Maureen Carlson's Center For Creative Arts.
Popularity: 94% [?]