Posted in
Metal
,
mixed media
,
Videos
on June 28th, 2009 by Alice –
2 Comments
If you're new here, you may want to subscribe to my RSS feed. Thanks for visiting!
Donald Gialanella work is in found in public places and private collection around the world. When I contacted him, he had just returned from Perth Australia. His design St. George and the Dragon Parallax Cross was named a finalist for the St. George's Cathedral sculpture competition. Incredible, what a visually delightful paradox. We certainly wish him well in the competition.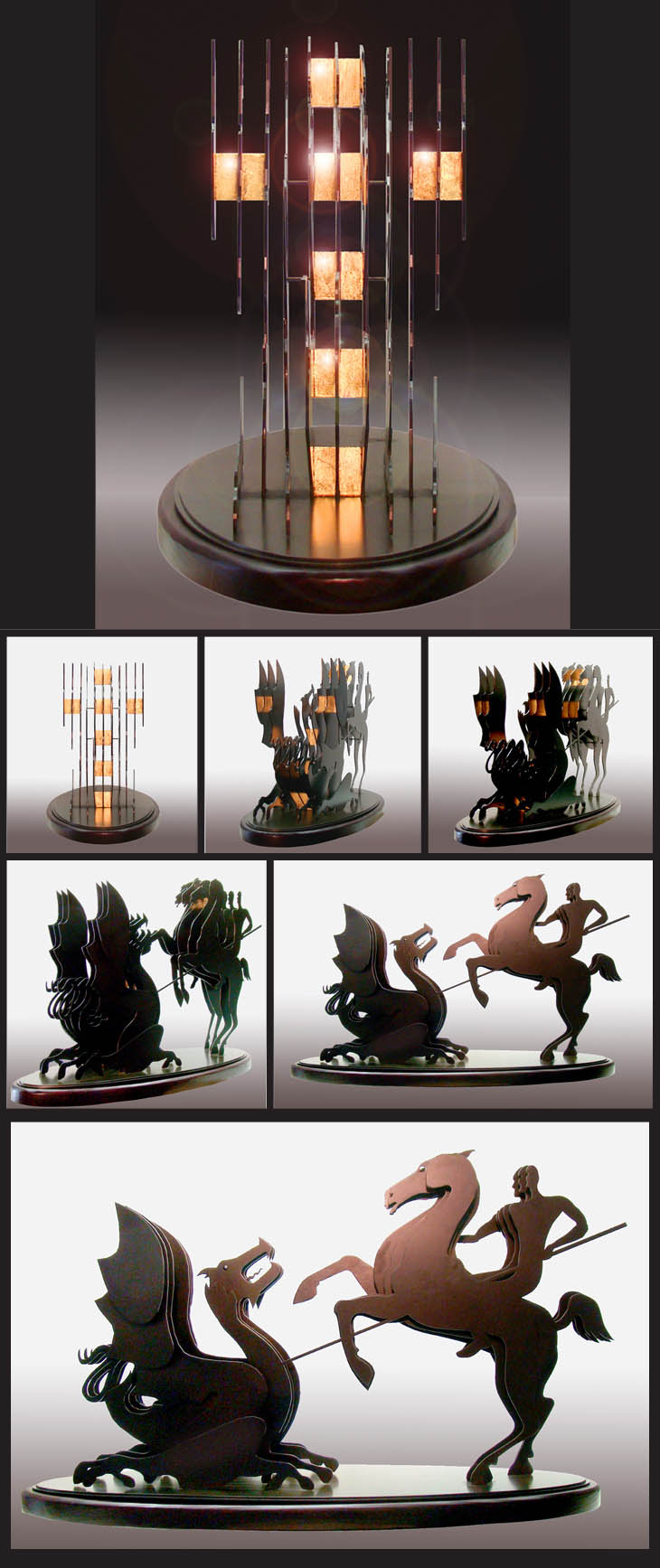 From his website I learned; Donald studied in New York City at The Cooper Union under Louise Bourgeois, Jim Dine, Vito Acconci and Hans Haacke. The school's traditional apprenticeship programs exposed him to bronze casting, steel fabrication, painting, drawing and graphic design, while classes with conceptualists Vito Acconci and Hans Haacke introduced him to anti-academic and revolutionary aesthetics. After graduating in 1979 and being awarded the Elliot Lash Prize in recognition of his monumental wood and steel tripods exhibited in Cooper Park, Gialanella was asked by Bourgeois to work as her assistant.  Throughout the following year Gialanella worked directly with Louise, doing everything from assembling armatures for her sculptures to creating odd portals, which she was fond of scurrying through from room to room, that he punched through the walls of her Chelsea brownstone with a pickax.
(If you would  like to know more about Louise Bourgeois, you can certainly do an online search for Louise Bourgeois, but here is a link to get you started.)
Ankara Turkey In 1992 Gialanella ventured to Turkey and devoted two years teaching art at Bilkent University. One morning as he wandered through a rural part of the Old City in Istanbul, he was hypnotized by a clanking rhythm. "My ears led me to the coppersmiths who were creating intricate designs with the simplest of tools, as they have done for centuries.  This inspired me to start working on sculpture again, hammering and bending to shape the steel in an organic way. In this exotic and ancient culture I began to spiritually reconnect with myself and experienced an artistic re-birth. A year later I had my first major one-man show at Ars Gallery Ankara and gained the confidence to devote myself completely to achieving my personal artistic vision."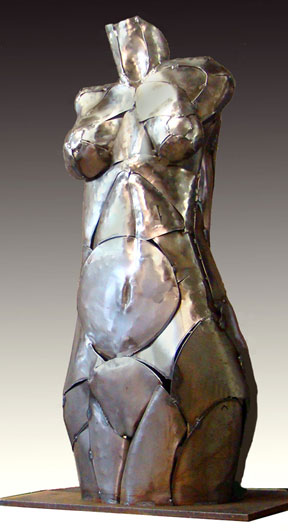 I was struck by the diversity of materials in these two sculptures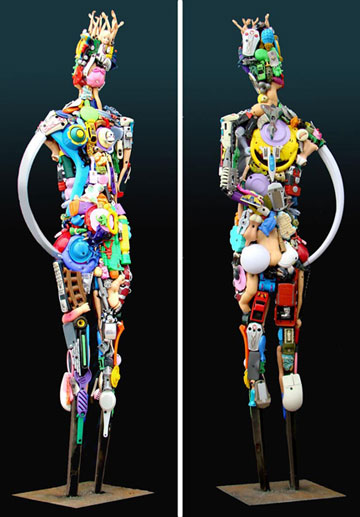 I enjoy his satire as shown in this smaller sculpture depicting the mortgage crisis.
Don is well known for his animal of which he has done many. From life size horses to smaller figures of animal that you can see here on his website. The Horse is the first piece he created in his new studio in Taos New Mexico. It's made of Heavey gauge cut and forged steel with an acid wash finish. 8 feet long, 4 feet wide and stands 5 feet 6 inches tall at the shoulder.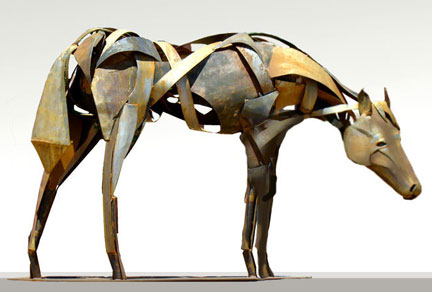 I love this rooster's color .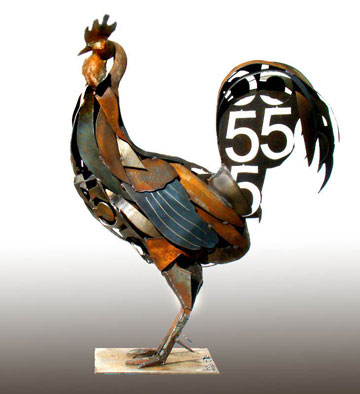 Maybe my favorite work is Idea Man below. Although it certainly is a challenge to choose just one of Don's pieces as favorite. There are so many to choose from that I have posted more here than I usually do.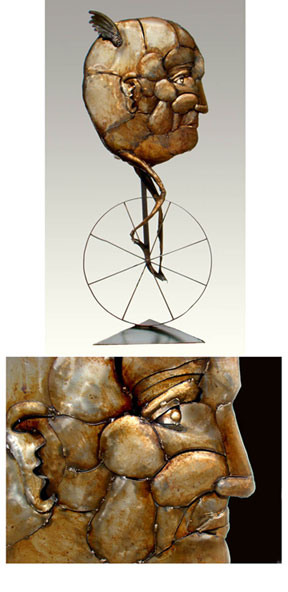 Don writes about Idea Man, "A completely three dimensional image, this fanciful steel sculpture is a logical progression of my Fragment Portraits. He rides a simple unicycle while supporting his enormous head appointed with Hermes-like wings that give flight to his formidable powers of creativity."
His method for creating his Fragment Portraits is fascinating. He writes, "I draw the face directly onto a sheet of steel and cut it into fragments which define the facial features in a specifically descriptive way. Then I reassemble the "jigsaw puzzle" and weld it together from the back to reunite the portrait. The color and texture is done with various chemical patinas, paint, metalic powders, and a grinder."
To really understand his process watch the video below.
I'm going to leave you with an interesting and delightful adventure into the world we are living in. Don was featured in several Magazines both in print and online. The online Magazines are the ones that are so interesting and interactive. Not only will you learn more about Donald Gialanella work, but somehow, with both photos and video and because it is so full of life, it makes the reader/viewer more engaged.
The first is CTN Green Maganzine, his article and videos are on pages 20 and 21. The video is the same as the one above, but the presentation is really interesting.  Please take a minute, you'll truly enjoy it. After you spend the time with Don on these pages, you might want to look at the rest of the magazine, interesting.
The second magazine with an interview with Don is Deviance from deviantART. You can download the issue to your computer. It's well worth it.
I hope you enjoyed getting to know Don Gialanella and his work. There is so much more for you to explore on his site, Donald Gialanella – Metal Sculpture.
Please take a minute to add a comment, let me know what you think, I really would like to hear from each of you.
Popularity: 37% [?]