Posted in
mixed media
on July 3rd, 2009 by Alice –
Be the first to comment
If you're new here, you may want to subscribe to my RSS feed. Thanks for visiting!
Whimsey – a thing that is fanicful or odd.
Found objects - A found object, in an artistic sense, indicates the use of an object which has not been designed for an artistic purpose, but which exists for another purpose already.
From the beginning of time artist have repurposed items to create their art. In this century, I always think of Marcel Duchamp and his ceramic urinal or Robert Rauschenberg's goat when I hear the words altered art or found objects.
In my post about sculptor Donald Gialanella I've shown one of his "found object" figures, Midden Woman.
I'll be looking closely at today's overwhelming adaption of these art forms in the months to come. I find it fascinating.
But right now, it's time for a wide smile and homage to the throw aways, the found objects.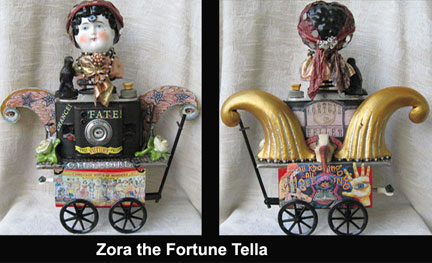 We all have these kind of items in our back closets or in our attics. While most of us either leave them there…or when they do come to the surface of 40 years worth of treasures, we send them on to Goodwill or a garage sale in hopes that someone might …just maybe…. decide to give it a new home. Because we know in our hearts that this one piece of yesterday is to be treasured, it represent our lives, or our mother's life..but for the life of US, we can't justify putting it out on the coffee table for all to see. Its old, it's broken, it's well..just not us any more.
Enter Lauretta Lowell. Lauretta's found art figures, her Whimsical Curiosities, are made from antique porcelain heads and arms, vintage kitchen appliances, machine parts, junk drawer items and costume jewelry. She takes that throw away item and makes it a keeper. The entertainment value is priceless.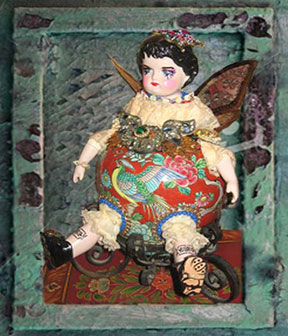 I'm attracted to these doll/objects, because they remind me of my childhood. Of small dolls and miniature china tea sets. Alice in Wonderland bizarreness!
Her figures make me laugh. It make me happy that there is one less de-funked treasure made new again. I laugh when I see the leg just sticking out of the bottom of a vase or an old tea pot. The old frame in the picture above would never have even made it to the garage sale pile, but Laurette makes you want to give it a place of honor somewhere in your life.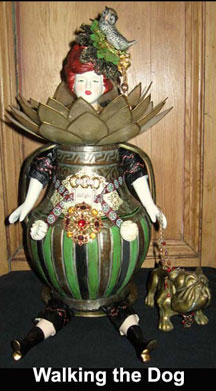 Lauretta has spent more than 30 years working with in the art community. From  Curating at the Santa Cruz Island Foundation in Palm Desert, CA to managing the Wentworth Gallery in Indio, CA. Now, Lauretta has turned her artistic talents to the whimsical figures you see here.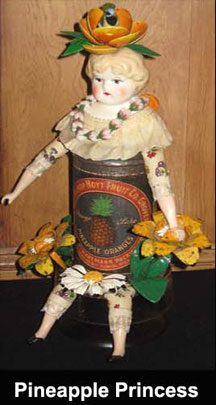 For more information about Lauretta and her work, visit her website Whimsical Curiosities.
And look for more posts here about altered art and found objects.
Popularity: 19% [?]