Posted in
Realistic
,
Videos
on May 23rd, 2009 by Alice –
Be the first to comment
If you're new here, you may want to subscribe to my RSS feed. Thanks for visiting!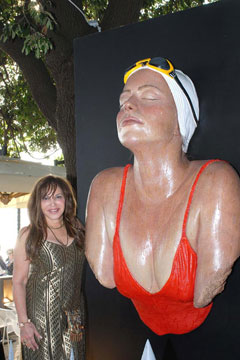 Carole A. Feuerman is considered to be one of America's most important realist sculptors. Her work certainly takes your breath away. I was amazed at the size of some of her figures. I particularly find her figures coming out of walls intriguing.
Her honors include: First prize at the 2008 Beijing Biennale, Inclusion in the 2008 Olympic Fine Arts Exhibition, the Peabody Award, the Betty Parson Sculpture Award, and the Medici Award. Her work is in the collections of President Bill Clinton and Senator Hillary Clinton, Dr. Kissinger, President Gorbachov, and the Forbes Magazine Art Collection, among others. She has been included in shows at museums such as the Metropolitan Museum of Art in New York and the State Hermitage Museum in St. Petersburg. You can read more of her Bio here.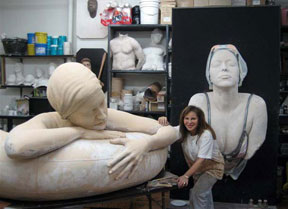 "All of my life, making art has been my passion. As I have experienced life, the forms that my work has taken have evolved and deepened. I want my art to inspire the viewer to look closely at what stands before them. It is not the fleeting moment that I want to capture, but the universal feeling caught in that fleeting moment. I want the viewer to complete the story when he looks at my sculpture, to reflect and feel touched. If I can create a work of art that can touch each generation, that would be my masterpiece." –Carole Feuerman
Carole has a new book out that she talks about in the video below. To take a closer look, see the link on the top right side of this page. Enjoy her video.

Visit Carole's website for more fabulous photos of her work.
Popularity: 40% [?]