Posted in
Ceramic
,
Realistic
on November 4th, 2009 by Alice –
6 Comments
If you're new here, you may want to subscribe to my RSS feed. Thanks for visiting!
I was struck by Michaela's statement on her website. She said, "I believe that human beings are here for a task, to discover – to remember, if you will, the gift we each came to deliver – the gift that is essential to bring balance to the earth, to restore our souls, to create heaven on earth by realizing and applying our thoughts, ideas and talents. "
When I was growing up, there wasn't a day in my life that both my mother and my father didn't say "I love you" to me. Whenever I would leave the house, my mother said, "I love you, remember who you are." I always took this to mean that I should be proud of my family, where I came from and who I was as a person. To not do anything to contradict who I was. My mother's mother, my grandmother,  said the same thing to her.
As the years went on I've come to believe that there was more meaning to that statement than any of us realized at the time. I truly believe that if we all could remember who really are and what we came here to do, the world would be that  "Heaven on earth" that we all are looking for.
Michaela wrote to me, "By forming the wet clay, adding and subtracting, I am uncovering the other person's soul, while at the same time ascertaining myself."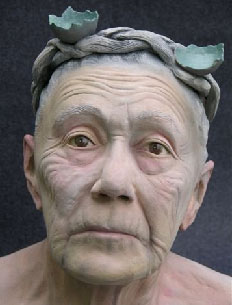 "In creating three-dimensional canvasses and subsequently painting them, I satisfy my artistic hunger on multiple levels. My work is as much about the human psyche and perception as it is about color, composition and form."
I think her work is stunning.
Her series, Fire, Earth, Water, Air, deals with the forces of nature. She had this to say about her work. "Since the beginning of civilization, humans have been attempting to explain our existence by answering the questions: who are we, where do we come from and why are we the way we are?"
"For that reason, countless sciences, religions and philosophies have been cultivated in all regions of the earth by numerous peoples, many times looking to nature for guidance."
"Fire, Water, Earth and Air are called the four classical elements, with Aether (=Space) being the spatial dimension that accommodates them, bringing the number to five classical elements."
"The four sculptures are my contribution to this eternal question – and – answer cycle. It is my attempt to allegorize the four classical Forces of Nature by depicting them as women".
Michaela goes on to say, "Additionally, I listed four attributes for each of the women and the qualities they represent in my opinion."
"Since my artwork has YOU, the viewer, in mind, I invite you to participate by adding to the list of attributes or adjectives that come to your mind when pondering the above statement."
Fire:  Passionate,    self confident,     energetic,     ambitious
Water:  Focused,      energizing,      relaxed,        curious
Earth:  Creative,      nourishing,      connected,       faithful
Air:  Spontaneous,       confident,        gentle,        musical
You can see more of Michaela's wonderful work on her website - Michaela. Check back there often for her new series on menopause. I'm very curious to see what she has to share with us.
Popularity: 86% [?]