Marie Gibbons – WABI-SABI – Milagros
If you're new here, you may want to subscribe to my RSS feed. Thanks for visiting!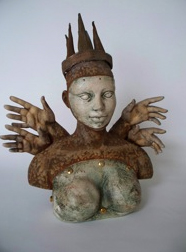 Marie Gibbons is an adventurer, going places with her art that are fascinating and at first glance disturbing. But upon closer contemplation, the viewer begins to understand, to relate, to  empathize.
Marie's wabi-sabi series was created in 2008-2009. She has this to say about her work.
"Wabi-sabi is the quintessential Japanese aesthetic. It is a beauty of things imperfect, impermanent, and incomplete. Wabi-sabi things are usually small and compact, quite and inward-oriented. they beckon, get close,. touch, and relate. they inspire a connection between one thing and another, between people and things."
Marie's work in this series embraces her interest in the "imperfect, the damaged, and destroyed that we all experience as human beings."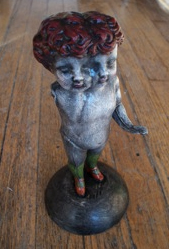 She explains, " I create these kinds of works through slip casting doll parts and then altering and assembling the pieces. This is all done contrary to the constructions of the original intent of my mold. I want to show the soulful beauty found in any situation should anyone risk the moment to stop and connect. Thus, my creations are meant to be representative of a moment in time and personal experience, each speaking of the simple beauty available in any object or experience."
I suggest you stop and take in Marie's work. I know after spending some time with her figures, I found much more than first viewed.
My favorite works of Marie's are hoarding and hoping series. Delightful characters that make me smile while at the same time the title makes me pause. One is titled – You can keep what you can carry.
She also does fabulous shoes and I wish I could see more of her organics series, She just teases us with her pods.
Her current work is her Milagro series beginning with Matters of the heart.
In the classical sense, milagros are offered to a favorite saint as a reminder of the petitioner's particular need, or they are offered to the saint in thanks for a prayer answered.
If, for example, someone has a sore arm, a tiny silver arm is hung on or near the favorite saint; the farmer who hopes that his pig will bear him many healthy piglets, asks his patron saint for intercession, and pins a pig milagro on the saint's robe. Milagros can be flat, three dimensional, tiny or large; they can be of gold, silver, wood, lead, tin, bone, wax or whatever the petitioner desires.
Marie says that her Milagro Series is about positive affirmations, and the heart is intending to say  I HAVE ENOUGH – I AM ENOUGH – LOVE IS ENOUGH. Thanks for a prayer answered?
Visit Marie's web site to see more of her work and read more about her creative process. Or visit her studio site, evb – studio to find out about her studio and online classes.
Popularity: 23% [?]
Related Posts: