Containing Len Cowgill's Figures
If you're new here, you may want to subscribe to my RSS feed. Thanks for visiting!
Len Cowgill is another of my contacts from Flickr. I first saw his figures in a bottle surrounded by writting and was intrigued. He steps away from the traditional frame to other means of containing his drawings.  I love the bottles, he is adding a twist to the old "message in a bottle".
His printer trays really captured me. Don't you just love this? The drawings are contained but at the same time are a part of the whole. Telling a story and making you want to know more.
My father was a printer and I spent many hours setting type for him. Printer trays take me right back there and make me feel connected to my past.
I asked Len what made him choose the tray for his drawings. He answered, "I've always enjoyed the act of drawing, creating textures with ink and graphite. I like setting up story lines within the work that the viewer can add to."
"Conventional frames didn't add anything to my work, so I began containing my drawings in different ways to heighten their impact. Printers trays are a challenge because of their numerous tiny spaces.  I enjoy expanding the storytelling by making words part of the image; when the drawing is finished I add the handwritten text around it. I also use various boxes and bottles to contain the drawings."
This is a project that Len began  in August 2009 and is still adding to it. The picture above is from the beginning.
This is how the tray looked in November 2009. The drawing below is the latest posted by Len and is another memory from my childhood and everyone else who is over 50 years old. Alfalfa, Spanky, saturday mornings and black and white TV.
You can follow his progress as he continues to fill the tray. He also has printer trays with Men and Women, American Kids, and Artists..  You can see them all on his Flickr site. I know you will enjoy your stay there.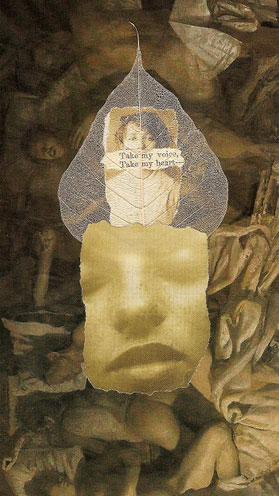 He has an collection of collages on his Flickr site as well. He has this to say about his newest pleasure. "I started making collages a few years ago for fun, more of an exercise in design than anything else. I don't sell the collages, they are just for enjoyment." Well they aren't  just for his enjoyment, I spent quite awhile with this set of images."
Len Cowgill lives and works at the Tamarack Gallery in Omena, Michigan. Tamarack has shown his work for over 10 years. Visit the Tamarack Gallery's website and see what Len is offering today.
Popularity: 46% [?]
Articles You May Enjoy: