Posted in
Contemporary
,
Traditional
on July 8th, 2009 by Alice –
1 Comment
If you're new here, you may want to subscribe to my RSS feed. Thanks for visiting!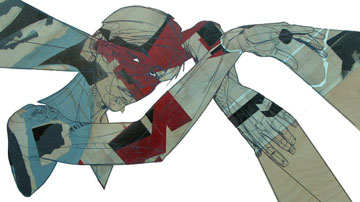 Jason Thielke's art focuses on urban landscapes and their inhabitants. A strong emotional connection to the built environment and its inevitable rise and fall provide the foundation for his work.
Jason Thielke's solo exhibition, New Work, will begin July 17 and continue through August 15, 2009 at the David B. Smith Gallery, 1543 A Wazee Street Denver, CO, 80202. A reception for the artist will be held on Friday, July 17th, 2009 from 7 PM to 10 PM.
From his press release, "The work in this exhibition speaks to Thielke's fascination with behavioral juxtaposition within the individual. The conflict between one's ability to implement self control and compulsion to manipulate and constantly self-gratify emerges as a reoccurring theme. Jason Thielke's drawings illustrate this struggle with mathematical precision. Constellations of the human experience, the artist utilizes simple, structural forms to portray stark contrasts within the spirit of his subjects – swirls representing natural beauty and positive energy; straight lines referencing intentional thought and manipulation used to influence others. These figures depict the idiosyncrasies of human perception, examining the dynamics of body language, eye contact and spiritual interaction. "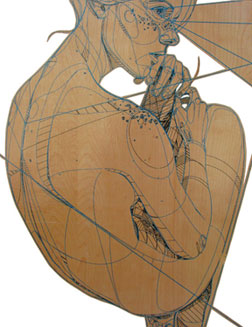 Jason's aesthetic encompasses both contemporary and traditional techniques much like modern architecture; his process of drawing, composing, and transferring images mirrors the planning, deconstruction and reconstruction phases of urban gentrification.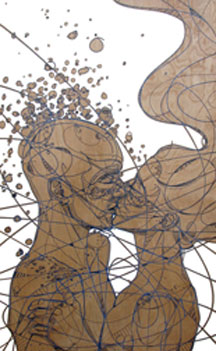 The architectural style in his work is applied to his interpretation of the human form, which comfortably contrasts hard lines with soft features and mixed emotions.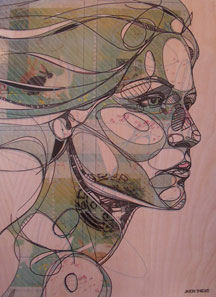 He often parallels this theme with the resurgence of American figurative painting.
Thielke earned his Bachelor of Fine Arts degree at the Northern Illinois University School of Art and has held solo exhibitions in Denver, Portland and Seattle.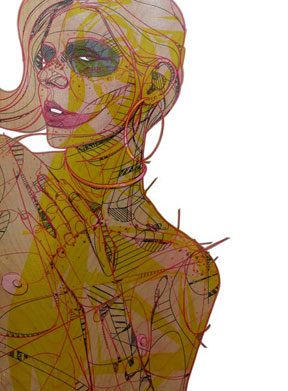 Thielke uses combinations of the following materials in his work, colored pencil, acrylic transfer, acrylic, aerosol, laser etching, and ink. You can see more of Jason's work on his website.
Popularity: 45% [?]