The Archetypal Sculpture of Cheryl Tall
If you're new here, you may want to subscribe to my RSS feed. Thanks for visiting!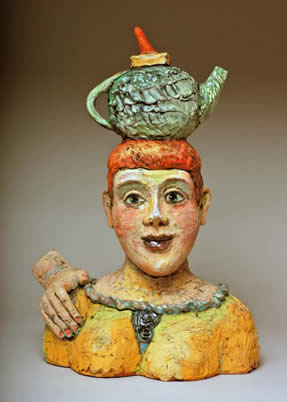 Fantasy, furniture that moved and animals that talk, were a natural part of Cheryl Tall's environment growing up, and no wonder, her parents were employed by Disney World!
My father worked on some of the building in Disney World and I wanted to live there, so I relate to Cheryl's imagination and fascination with the absurd.
As Cheryl began to travel, visting art galleries and museums, and to study art history in college for completion of her Master's Degree in Art, she was able to merge this early carnivalesqe imagery with increasingly more sophisticated techniques, and incorporate references to pop culture and surrealism.
When I spoke with Cheryl, I asked her if she would like share some insight to her work. I wanted to know what moves her and she replied, "What moves me is meaningful human contact.  I love to watch the crowds in airports, malls and parks, and see how people interact with each other.
"Absurd things make me laugh" she said, "things that are incongruous.  Charlie Chaplin, funny movies, Cirque du Soleil, mime artists."
I asked Cheryl what she wants to give the viewer, "I want the viewer to leave with a smile, an intriguing thought.  Things are not always what you think they are, and there are many different levels of reality."
"I'm frequently asked, Why the medieval clothing and buildings?  I see this particular time in history, say the 12th century, as a reference point."
"It's not that long ago compared to the age of the world – not even a 1000 years ago.  Yet all of human life experience was pretty similar for eons:  people walked or rode horses.  They made everything by hand.  They grew their own food.  Heat came from a fireplace or a campfire.  Life was lived at a very slow pace because of all the work needed just to eat and have shelter and clothing."
"Things began to speed up.  Trains were invented and gas lights and printing presses. Things began to speed up even more.  We got electricity and cameras and guns and cars."
"In the past 50 years, everyone got a computer, a cell phone, a digital camera, a wide screen TV.  News that used to take a year to arrive now is known instantaneously, all around the world.  We have Facebook, Twitter, emails, phone messages, texting, Myspace, etc."
Cheryl continued, "Sometimes I feel overwhelmed by all of this.  Then I get my perspective back by mentally stepping into medieval garb and taking a look at all these modern things.  They look like magic, and illusion!  And maybe they are."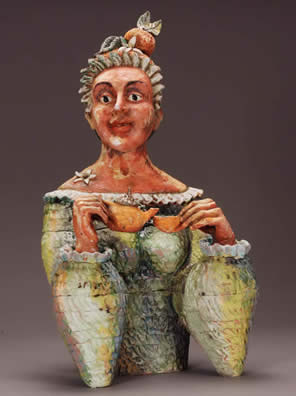 Well Cheryl, maybe you're right, maybe life is an illusion, but there is nothing deceptive in the  fun and delight that your sculptures bring the viewer. Your work is large and that in itself makes a statement about their permanency.
Cheryl works in her studio in Leucadia, CA, she teaches and exhibits her work in galleries around the country. Visit Cheryl Tall's website for her busy schedule and to view more of her wonderful sculpture.
Popularity: 55% [?]
Related Posts: