Posted in
Ceramic
,
Marie Gibbons
on August 8th, 2012 by Alice –
2 Comments
If you're new here, you may want to subscribe to my RSS feed. Thanks for visiting!
When I was in Colorado, I dropped in to visit with Marie Gibbons in her Denver Colorado studio where I was delighted to be able to talk with her and be inspired by her and her work.
"TWO" is a re-visit in many ways to the first pieces that I created when I first began working in clay, intimate sizes (from 12 – 24″ in height) and completely hand built figures. As always, my inspiration for the work is my impressions, thoughts, experiences in life, this series looks at the relationships between 2. The ying and yang of a couple: friends, siblings, strangers, and the dichotomy found in one. Each couple has their own connection, they do not necessarily connect to the group as a whole, just their partner."
My first encounter with Marie's work was her "Float" series. It's still my favorite work of Marie's, I'm lucky to own one of the swimmers.
"FLOAT" is a series that began in 2004.  As in most of my work, it was spurred by actual life experiences that were part of my being at the time… 2 teenagers in the house, one in the height of 'teenage angst' and me trying to stay 'a-float"  It dawned on me … the parallels between learning to swim (my roots to the ocean, growing up on Long Island, NY) — if you stay calm, relax, you become buoyant — your body floats to the surface.  If you freak out, you sink like a stone.  Same for getting through trying situations… stay calm, keep your head, and you can move through most anything, freak out and things only get worse.  The swimmers evolved from these thoughts, heads at different levels of buoyancy…. some fully up out of the water, others eyes only, then eyes, nose, then eyes nose and mouths…. different stages of surviving."
"I worked on this series for about 6 years, it was shown in various site specific installations over the years.  The original, first grouping consisted of about 50 heads at various levels of buoyancy in a faux swimming pool that was 8′ x 16′, created from floor tile that was painted to create a watery surface, boardered with white tile.  The space had buckets of chlorine water hidden so that it smelt like a public swimming pool when you entered the gallery.  Another installation presented through 6 smaller pools, called "Tide Pools"  installed in the gallery at University of Northern Colorado, Greeley."
Another fabulous collection featured on her website is sculpted books - figures incorporated into old books. Being a fan of both, I can't help but be drawn to this series.
"Spindle, fold, cut … Combining old books and figurative elements in clay, this and that = words becoming more than an written inspiration, they also become part of the art. Ceramic doll parts, found objects, encased in beeswax and/or resin."
Marie is a generous instructor as well. Each First Friday in her art filled studio she leads a group of lucky students in an exciting and fun ceramic project.
This Month is was turtles, next month will be something just as interesting and inviting. A couple of months ago it was rattles, I'm crazy about these guys.  If you are ever in Denver on a First Friday, you'll want to be sure and check with Marie and see what she's cooking up for you.
But you don't have to make it there for First Friday, you can visit anytime. She even gives private parties at evb•studio – 4343 W. 44th Ave – Denver, CO 80212 - PH: 720-234-7337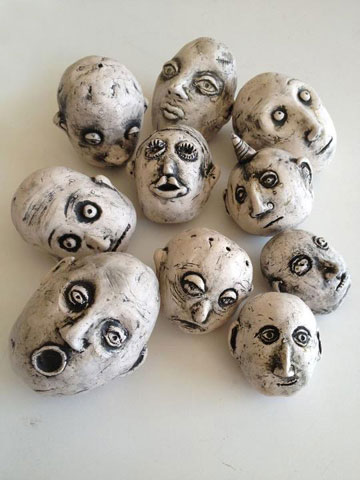 You can also follow Marie on Facebook where she has over 500 photos of her work and others to inspire and encourage you.
Popularity: 30% [?]